Beauty, intelligence, and an unmatched work ethic.
Vom Banach K9 breedings are highly select and carefully planned Czech, East German/DDR, and West German working line breeding combinations of excellent lineage.
I breed DDR/Czech, and West German Working Line dogs. I do not breed American or German Showline dogs. I expect very dark black sables, sable, solid black and occasional bi-color puppies in these breeding combinations with beautiful working structure, expressive head type and strong bone. The Vom Banach K9 German Shepherd Pedigree Database is made available to you proudly.
My litters are extremely well bred and individually tested for their prospective placement in many types of homes from Law Enforcement to PPD, Schutzhund, SAR, Detection, Competitive Obedience, Agility, Nose Work, and Family Companion/Home Guardians. Vom Banach K9 puppies are best suited for intermediate to advanced level handlers.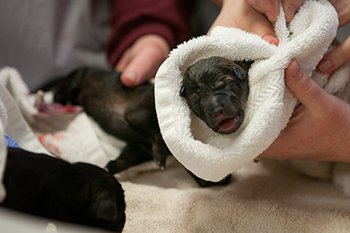 My puppies are very warm and joyful in their character and form an incredibly strong bond with their owners from their first day home. They are best suited for an active family lifestyle, where they will live indoors and be involved in your day to day life, be within your presence and with people who are experienced and knowledgeable in dog ownership, upbringing and care.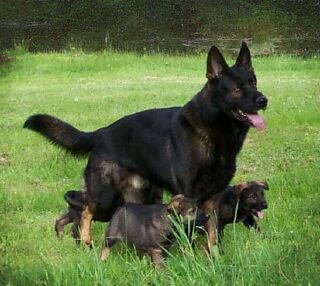 Vom Banach breeds for high to moderate working drives for the ball or toy with natural grips and a pure joy for the work in which they will be tested. I achieve balanced drives that are not extreme, as well as exceptional work ethic, and a dog who is clear in the head. If you are interested in one of my puppies it is very important that we discuss your personal experience level as well as specific needs, temperament traits or working abilities you are seeking in a dog.
Just as important as it is for you to find the right dog and breeder for what you are looking for, I also look for specific types of homes I will consider for the purchase of one of my puppies. More and more I find I get phone calls from people who want a beautiful German Shepherd dog like one of mine on my website but they lack the knowledge that also must go with owning and training a working line German Shepherd and the responsibility that comes with.
I have sold dogs to people who have claimed to be very experienced who fail miserably from the very beginning when it comes to the very basics of crate training, to others who initially may lack experience but educate themselves and put the effort into being and becoming an excellent dog owner. So careful screening of all prospective homes and potential clients is mandatory for this reason.
If you have questions as to whether or not this breed or one of my dogs may be right for you or a particular litter I have shown here please feel free to call me so we can talk and discuss your experience level and skills as well as to just get to know each other better so we can both decide if you are right for one of my puppies or my puppies are right for you. Here are some of the specific questions you may want to ask yourself.
As always my puppies are hand selected for my clients personal needs and come with my full written warranty and guarantee. If you have additional questions or would like to discuss any of these breedings or upcoming litters, I welcome your inquiry.
Thank You,
Julie Marlow
Vom Banach K9
Owner and Breeder
Veterinary Technician 20 Years