Retired Vom Banach foundation dam, Jiva, marks 12 healthy, active years
At the age of 12, Jiva, remains a healthy, active, and devoted companion to owner, and talented photographer, Dianna Evans. As you can see by the beautiful photos kindly provided, the two greet the day together at sunrise, and share the sunset at day's end. Jiva's loving owner Dianna muses that the two "have gone gray together". At Vom Banach K9 we breed sound, durable dogs from extensively researched and carefully selected imported DDR/East German, Czech, and West German working lines so that you and your Vom Banach K9 will share many sunrises, and many sunsets. Click any image to enlarge or view as a slideshow. Click the Share icon on the image to share an individual image, or click the icons above this paragraph to share the whole page. Scroll down to see Jiva as a puppy.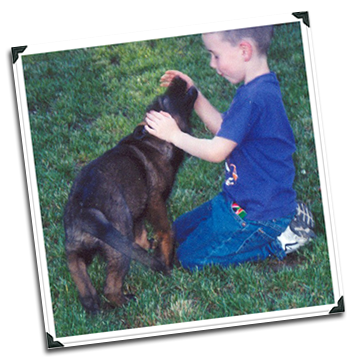 The Story of Jiva
Jiva was one of my foundation females and first imports from the Czech Republic. Jiva is the daughter of Faro Policia SVV1 titled, rated excellent, 1st select breeding class and winner of the Stud Dog Show in Bratislavia 2000 in the Service Dogs Category at only 2 years of age! His dam, Fatyma z. Pohranicni straze, is one of the finest all time producing females for the Czech Border Patrol.
Included also in his line is the extraordinary blood of Farug Cega, Bero v.d. Friedersdorfer Flur, and Held v. Ritterberg. Jiva's Dam is Ossi z. Antdagu DKK 0/0, velmi dobra, 1st breeding class, selective bred, 5CV1/N, ZVV1 titled and in her time was one of the top producing females for the Czech Border Patrol, a Gero Blatenskeho zamku IPO3, SchH3, ZVV3, ZPS1,OP1 daughter and an Omar Blatenskeho zamku ZM, ZVV3, IPO3, ZPO granddaughter.
Her line also contains Gero v.d. OG Dabringhausen and Gomo v. Scheiferschloss. Jiva's foundation may be found in many early generations of Vom Banach K9 puppies and currently her granddaughter Jara is one of my own very favorite personal companions.
Jiva retired early from breeding and was homed with Dianne who has had her ever since. Over the years Dianna became one of my most endeared clients I will ever know whom I consider part of my extended family and cherish.
Every year without fail during the holidays a little package would arrive. Inside was always Christmas and a special time I found to reflect, to cry a tear, and to remember. I would open this package to find a small gift from them; a leash, a toy, a special treat – but what was the most special was always the envelope the package contained that I would find a quiet place to open.
From inside would be a letter I would hold my breath to open, to be told of what adventures Jiva and Dianna had together that year. Sometimes hardships, but mostly of new friends they had made, trips they had taken, special memories they had made and the beautiful pictures they would share. Always always the beautiful pictures.
Thank you Dianna for sharing your love, for giving Jiva the beautiful full and wonderful life you have and for every year sharing her with me. It is I, who has been truly grateful for you! – Julie