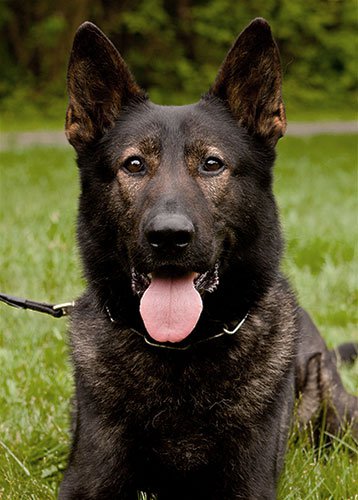 Natural tracker, serious protection with firm bites and excellent accuracy, and loving family companion, protector and friend
VG Irvin Skocicka Samota UV, GHP1, SchH3, Selection KKUSH, HD/ED A Normal, 0/0, DNA
Vom Banach K9 proudly welcomed Irvin Skocicka Samota on June 6th, 2011. Irvin comes to us from a wonderful friend in Belgium who we can not thank enough for allowing Irvin to come to the USA and exclusively to Vom Banach K9. I have long been an admirer of Irvin since I first knew of him at the puppy age of 9 months old. I have had the pleasure of watching this handsome boy grow up and train from afar for the last 3 years.
Irvin is simply spectacular. His personality and drive for work are purely uplifting. The bond he makes with his handler is kind, attentive, endearing and gentle but in no way one that is dull or boring in character. Irvin has great excitement and immediate intensity for the work. He is an honest dog who openly gives his all.
Irvin has a natural instinct for tracking where he is calm and methodical. In protection he is serious and focused with firm grips, excellent accuracy and speed. Irvin is the kind of dog I absolutely love that can demonstrate complete versatile working abilities yet be right back home as a wonderful family companion, protector and friend. He very quickly adjusted to our home here and is an "in the house dog".
He has excellent manners and is not hyper or over-stimulated in the home. He is a very self confident male who will not be pushed around or dominated while still having a very silly side to him with much individual charm and personality. Irvin will happily fly up into your lap, paw at you to pet him, or try and engage you with a toy. He is definitely a dog who is very comfortable in his own fur.
Irvin has an excellent Czech pedigree. He is the son of Gerro Leryka IPO3, SchH3, ZVV3. Grandson of Ero z. Osobovske skaly ZPS1, ZVV3,IPO3, SchH2 and a long line of renown and respected Czech working dogs.
Irvin sired five breedings in Belgium where he consistently produced very confident outgoing puppies with his beautiful dark pigment and love for work. His first puppies are just in the beginning of proving themselves and also are coming back with A' hips. Irvin has had healthy puppies with correct stock coats, strong ears, no undescended testicles and of good health.
His bloodlines blend beautifully here with our DDR and Czech bred females including our daughters of Aron vom Poppitz. It is with our greatest pleasure to be able to offer such a well rounded solid stud dog again here in our breeding program.