Vom Banach K9 dams are carefully selected for strict adherence to the breed standard, strong maternal nature, health, and fitness
100% German, DDR, and Czech Working Lines
Come back soon for new Rising Star Females
Clara Vom Banach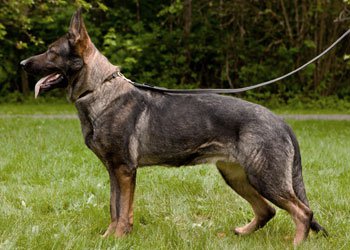 Summary
DDR / East German Working Lines Specialty: Search Dog (HRD) V (LGZS) Aron vom Poppitz SchH3 KKL1 x Jada Vom Banach AKC Registered HD/ED Good, Elbows Normal
About Clara
Clara vom Banach is the beautiful third generation here at our kennel of one of today's most healthy and strong remaining DDR bred bloodlines. Her Grand dam Aika vom Grau's Ranch was imported directly from East Germany by Vom Banach K9 in 2004. Clara's bloodlines remain as a result of the proven genetically healthy DDR lineage attained exclusively at Vom Banach K9 by our renown sires. Most noteworthy within her line first and foremost has been longstanding excellence in health free of inherent genetic risks as well as longevity and a proven history of strong and healthy hip development.
I firmly believe within my selective breeding program that each generation bred needs to be carefully considered and evaluated for what genetics are closely involved to keep this line healthy and free of any "saturation" or weakness that can often be seen in other breeders dogs and breeding programs today who may continually line breed (in-breed) without conscience to the effects this may have on future generations.
Clara is an elegant female with very deep and rich reds and mahogany coat colors classically known within the DDR bloodline dog. She has strong bones and enormous athleticism with an unstoppable desire to work and please her handler. Clara has been trained in Cadaver Detection at Vom Banach K9 where she excelled immensely from a very early age. Clara has a natural deeply seated genetic ability to hunt for odor with clearly readable indications given to her handler. She hunts and searches with intense determination, agility, and attention to detail. She was easily trained to give a "sit" response upon her "find" and thrives within cluttered and complicated search areas that have a high level of distractions.
Clara passes on to her progeny some of the most beautiful of all Vom Banach K9 puppies born here. They have a warm gentle character that has been desirable for family homes with small children for companionship as well as for the working dog enthusiast with special interest in Search work or Detection work. Clara's puppies have a very adaptable character and can easily fit into a variety of working and family home needs.
Photos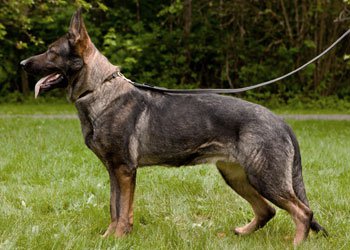 Pedigree
Clara vom Banach Pedigree Database
Atilla Vom Banach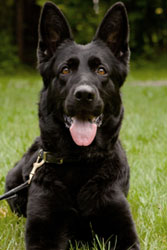 Summary
DDR / East German Working Lines Specialty: Search Dog, Trailing, Tracking, Scent Discrimination, Vehicle Search, Personal Protection/ Suspect Apprehension Bite and Hold (In-training) V (LGZS) Aron vom Poppitz SchH3 KKL1 x Sindy vom Ludwigseck AKC Registered OFA HD/ED Good, Normal (Preliminary Submission)
About Atilla
Atilla is a pure East German/DDR female bred here at Vom Banach K9. She is the gorgeous daughter of Aron vom Poppitz and our retired East German DDR Import female Sindy vom Ludwigseck. Atilla has undergone extensive and rigorous training in Search and Rescue as a K9 Trailing dog and has been handled by my son Cameron starting when he was only 13 1/2 years of age. Cameron became a Certified ESAR Member within Kitsap County, Washington State at age 14 in 2008 as a "Brush Monkey" and by 2010 he became certified as a Team Leader who volunteered many hours with the Department of Emergency Management.
Cameron has been working with German Shepherd Dogs since he was three years old both when I used to pack him up and take him with me out for dog training in Search and Rescue and in later years independently on his own in Search and Rescue. Today Cameron and Atilla are learning the disciplines required for Law Enforcement. Currently Cameron is Handling as an Apprentice Cory (Decoy) with local Police and Sheriff K9 Units while he pursues a career in Law Enforcement as a Sheriff Deputy Cadet with a specialty interest in K9 work.
Atilla has been a superior dog for Cameron to work, easily adapting to changes in the work required of her and eager to fulfill any task or demand made of her. She is trained to find live persons as a trailing dog by using scent discrimination technique as well as tracking by the most recent and freshest foot path. Atilla has experience in vehicle search technique and is currently working in bitework for apprehension practice and training skills. As of 2013 Cameron and Atilla are still a working Handler/ K9 team. The bond achieved between Cameron and Atilla is intensely strong and it has been with great pride that I have watched these two grow up together. It is often said that a great working dog will work for anyone, but an even greater dog will work for a child and still a man.
Due to Atilla's working career and professional interest she has only been available for limited breedings within our K9 breeding program. She simply has many more important things to do and taking time out on maternity leave takes away from her work and her master. Atilla is still considered within our breeding female line up but only on a limited basis. The two litters Atilla has produced have been excellent. She produces high drive working puppies with her same keen desire to hunt and search with an intense bond with their handlers and willingness to work. They are very warm in their personal character and attentiveness to their handlers and provide ample work ethic, performance levels and drive needed for the most demanding of working disciplines.
Photos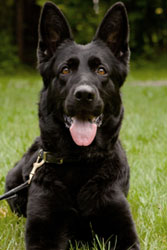 Pedigree
Atilla vom Banach Pedigree Database
Allie Vom Banach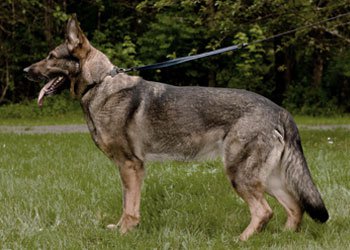 Summary
DDR / West German Working Lines V (LGZS) Aron vom Poppitz SchH3 KKL1 x Irma vom Korbelbach AKC Registered OFA Hips: Good Elbows: Normal
About Allie
Allie is one of my most endeared girls here in my breeding female line-up. She is everything I see that represents perfection wrapped up in one prestigious package. This girl simply has it all and should be the pillar by which all working German Shepherd dogs are measured. Allie is intelligent, disciplined, obedient, courageous and her love for life is a daily reminder of what really makes life worth living. She is a joy to live with, to look at, to work with and at the days end to relax with. She is always cheerful, expressive and eager to take on with full authority any direction that is given to her.
Her beautiful structure is muscular, powerful and made up of solid substance and athleticism. Her movement is quick, collected and purely breathtaking to see. There are times when I watch her run where I wish for even one moment in my life I could feel what it is like to be that free. Her eyes are the window to her soul which she openly shares with all of her heart.
Allie is a dog that is safe to be around, clear in her behavior, thinking and mannerisms. Allie is trustworthy, biddable and true in her noble German Shepherd character. She is a prime example of what careful breeding practices bring forth to our beautiful working dogs here through generations of careful selective breeding.
Allie's Dam, Irma vom Korbelbach, was one of those beautiful dogs herself that will live with me in my heart for a lifetime. Irma was imported from reputable breeding kennel vom Korbelbach in West Germany after attaining her SchH titles. A foundation female for Vom Banach K9, who remained here with great longevity and health until almost 14 years of age when I lost her to natural causes at my bedside leaving behind a legacy.
Allie is one of her finest daughters bringing with her forward the bloodlines of multiple (V-BSP) ScH3, IP3, FH2 titled working dogs. Allie has carried on her Dams great ethic, ability and ancestry in progeny who are both proven and accomplished successful Police K9's, SchH competitors, Search and Rescue dogs and many other top level working dogs.
Pedigree
Allie vom Banach Pedigree Database
Molly Vom Banach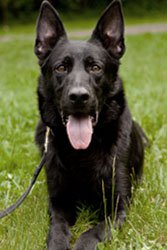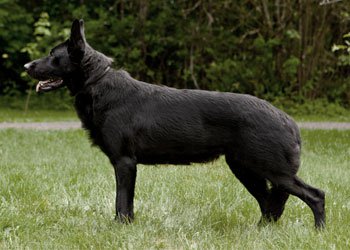 Summary
DDR / East German and Czech Working Line V (LGZS) Aron vom Poppitz SchH3 KKL1 x Jezinka Anrebri AKC Registered OFA Hips Good, Elbows Normal
About Molly
Molly vom Banach is a gorgeous glossy solid lacquer black female with beautiful head type and elegant feminine expression. Her structure is well balanced and correct with slight angulation to her topline which allows her fluid movement while maintaining strong working balance and endurance.
Most notable in her very unique and individual personality is her pure love for her handler. From a three and a half week old puppy in the puppy box, Molly was very aware of human presence and had very early social skills with strong attachment to humans. It was evident that she knew there was more to life "outside of the box". Molly would crawl up and over other puppies with such determination just to get to the edge of the whelping box where she could make eye contact with you and a seeming mental connection. Her intense eye contact and desire to try to communicate with you was very predominant in her character.
I greatly valued this distinction in her personality for the potential development of the specific qualities and character I desire for competition level obedience prospects. While Molly's breeding is a very nice combination of both DDR and Czech breeding, Molly herself is a very interpersonal and unique female that set herself apart with recognizable difference. For future generations I sought these qualities for the careful consideration of what I look for when considering a future breeding female here in my breeding program.
Molly is one of our finest Aron vom Poppitz daughters produced here within our kennel. Molly is half DDR and half Czech bred and has a clear balance of these two distinct combinations. Her dam Jezinka Anrebri was one of our earliest founding females and longest standing females here at Vom Banach K9 Kennels. Jezinka consistently produced top level working class puppies with strong working temperaments.
Molly has proved herself well as a breeding female for the production of genetically healthy puppies that bring forward her same high level of energy, devotion, overall balance and unique personal connections with their handlers. They have fun personalities that are comical at times, provide a level of dog that does challenge the skills for intermediate and above level handlers while maintaining a warmth in character my puppies are known for.
Photos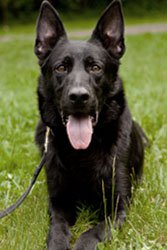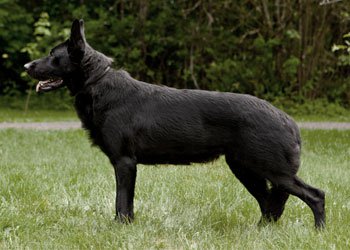 Pedigree
Molly vom Banach Pedigree Database
Emily Vom Banach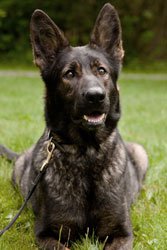 Summary
DDR / East German Working Lines V (LGZS) Aron vom Poppitz SchH3 KKL1 x Sindy vom Ludwigseck AKC Registered OFA Hips Good, Elbows Normal
About Emily
Emily is an absolutely stunningly beautiful 100% East German/DDR female who was bred here at Vom Banach K9. She is the daughter of Aron vom Poppitz and East German DDR import female Sindy vom Ludwigseck. Emily is from the repeated breeding of this pairing whom also produced her full sister Atilla vom Banach from a previous litter. Emily possesses the same warmth in character, devotion to her handler and immense loyalty to her family that this proven producing DDR breeding combination harmoniously brought together. Of all of the dogs I have in my home it is typically Emily's head of whom I will often feel resting on my foot while I work in my office or find at my constant side.
Emily is an exemplary representative of what we should think of when we imagine a well bred DDR dog. She has correct structure, movement, strong bone, deep rich and dark black sable pigmentation with an expressive head type and open outward joyful expression. She is calm in her nature and easily handled by youth, is safe around children, other dogs and farm animals. She thrives on obedience training and is always looking to her handler for the next directive. She is a healthy dog who is easy to keep and maintain in correct working weight and optimal physical condition. In the work of her progeny, Emily's puppies are consistent in development, show a beautiful level of recognizable and early pronounced drives, tracking abilities, and natural notable hunt drives. Offspring from this excellent lineage are suitable for a range of disciplines and are best suited for working homes where they will be well trained from a very early age by knowledgeable dog owners.
Photos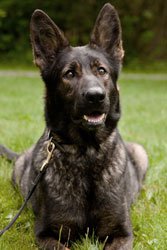 Pedigree
Emily vom Banach Pedigree Database
Kiara vom der Staatsmacht IPO1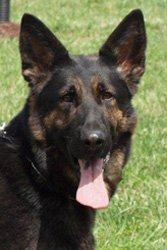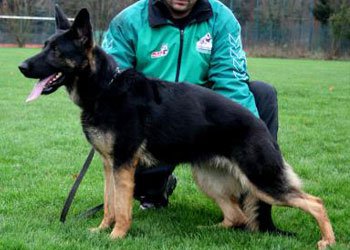 Summary
West German Working Lines Sire: SG Tyson von der Schiffslache SchH3, LGA Sieger, (3X)BSP, IPO3 Dam: SG Corry von der Staatsmacht SchH3 KKL1 HD a' fast Normal German Import: SV, AKC Registered
About Emily
Kiara comes to Vom Banach K9 from the von der Staatsmacht Kennels in West Germany where they are known for their strict selective breeding practices and producing high level working line dogs who are known to be "serious in the work". Kiara has an impeccable working line pedigree that consist of dogs with solid reputation who improve working bloodlines to bring about these same high levels of sport and capabilities needed for the serious performance and competition dog enthusiast.
These well known and proven specific types of bloodlines are necessary for the improvement, maintenance and careful consideration needed to continually produce German Shepherd dogs at Vom Banach K9 who are capable of meeting the needs of today's top level working dog who can be fielded for a variety of demanding working needs required by Law Enforcement Agencies, PSA, French Ring Sport, Search and Rescue, Tracking and other specialty interest handlers.
Kiara is a proven producer of a high level of working dogs who do not disappoint as can be read within our testimonials by clients such as Roz in Canada with her beautiful puppy Lyra vom Banach.
Kiara is typical in her structure of that given to (G-rated) SV type with a straight back and topline. In likeness Kiara's appearance is a reminder of many of the great legendary German Shepherd dogs seen within the Breed standard that were originally founded upon by Max vom Stephanitz.
In the home Kiara displays a quirky, amusing and often very entertaining comical personality. While she is ready to go to work at a seconds notice she also has that wonderful ability to hang out casually and quietly at your side on the kitchen floor, hopeful in the anticipation of handouts of fresh vegetables freshly cut from the cutting board. and to be an ever devoted and loving family companion, friend and protector.
Photos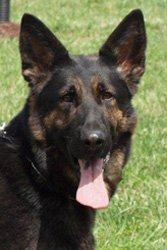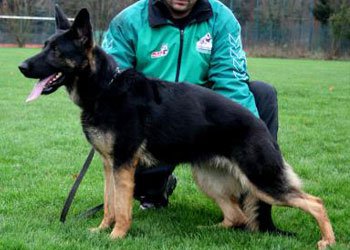 Pedigree
Kiara von der Staatsmacht Pedigree Database
---