Dams retired from our breeding program
Hexon vom Banach
Summary
DDR /East German, Czech
Hexon vom Banach "Exa"
BH OFA Hips Good, Elbows Normal
Hips GS-76185G25F-P1
Elbows GS-EL20357F25-P1
AKC#DN10455104 DOB February 2nd, 2005
About Hexon
Exa comes from one of our finest two time repeat breeding combinations between our retired Czech stud dog Dar Bily Trpaslik ZM, ZVV1, SchH2, IPO2 1st Breeding class, Selective Breed DKK 0/0 5CV1/P son of renown Czech Grimm z. Pohranicni straze and one of our finest foundation females DDR Alpha "Elsa" vom Wilknitzhof, Search Dog HCT. daughter of Tino vom Felsenschloss. Her pedigree consist of some of the finest working dogs of all time.combining both sides of Czech and DDR bloodlines. Exa, now one of our retired females, is an absolutely beautiful female who was the pick female from her litter She has excellent working structures, beautiful head and wonderful expression Exa is a replica of her mother in every way. She is an excellent companion and has a very trustworthy temperament with family and children, she is very protective of her home and property but is very friendly and outgoing in her character.
Photos
Pedigree
Hexon vom Banach Pedigree Database
Trudy vom Grafental
Summary
DDR Bloodline/East German Import
Trudy vom Grafental
BH, HD/ED a" Normal
About Trudy
Trudy, now a retired female, is an absolutely beautiful Pure DDR/ East German imported female from excellent DDR lineage. On her sire line she is the daughter of V.Quieck vom Ludwigseck SchH3, ZW 76, Granddaughter of V. Arek von Uns Heimaturt SchH3, also on her sire line her Grand dam V. Quandell vom vom Grafental SchH3, Grandsire V. Sven vom Grafental. As well as having such excellent breeding on her sire line her dam line is equally impressive with her dam V. Maja vom Grafental SchH 3. Grandsire V Enzo vom Grafental SchH3 and great grandsire to V. Larry vom Wolfseck SchH3, FH2, IP3. Trudy comes from a very healthy bloodline of a'Normal hips ratings. She is a very dark black sable with warm red undertones, she has perfect working structure and a very lively temperament. She has high ball drive and loves to retrieve as well as track. She is an excellent dog in the home and gets along harmoniously with other dogs large and small. She is gentle with children and family members and settles down easily in the home. She is very easy to live with and be around. Trudy brings to our breeding program superb DDR/East German lineage as well as excellent drives for work. She is exceptional for producing progeny with her her balanced character, beautiful working structure, gorgeous black sable pigmentation and excellent temperament.
Photos
Pedigree
Trudy vom Grafental Pedigree Database
Danica vom Banach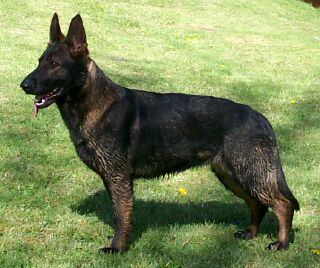 Summary
DDR(East German) / Czech
Danica vom Banach "Dani"
AKC#DN12420308 DOB: October 1st, 2005
OFA Hips: Fair, Elbows Normal
Hips:GS-80279F38-VPI
Elbows: GS-EL22927F38-VPI
Photos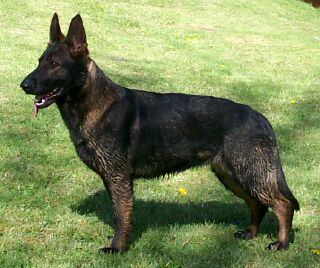 Pedigree
Danica vom Banach Pedigree Database
Alpha vom Wilkintzhof "Elsa"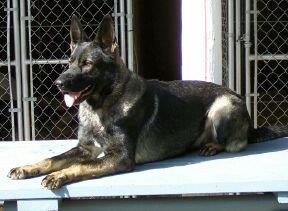 Summary
East German/ DDR Import
Alpha vom Wilknitzhof "Elsa"
Search Dog, HCT
OFA Hips Good – Elbows Normal
About Elsa
Elsa was a DDR/East German female Imported from Annaberg, in East Germany. She is the daughter of Renown DDR stud dog Tino vom Felsenschloss SchH3, FH2, IPO3, KKL1.
Elsa is athletic, compact and solid with excellent working structure. Elsa has a wonderful attitude with very nicely balanced play and retrieve drives as well as determined hunt drives. Elsa always works with a purpose and with the correct temperament for detection work. She has an upbeat sense of humor and is very responsive to her handler only requiring verbal commands, a quiet whisper, or hand signals for any directed work. She makes excellent eye contact with her handler and is always ready for the next assignment. She is a very fun dog to work but is also not a pushover. Although she has never had formal training in protection/ bite work she is naturally protective of her handler family and home, making her a true representative of the DDR Dog.
Elsa has worked as a Search and Rescue Dog here in Washington State. She has undergone extensive training in wilderness, urban, evidence, and cadaver detection. She has superb tracking abilities. She is a detail oriented, methodical hard worker able to work for several hours at a time in a variety of weather and terrain conditions.
Photos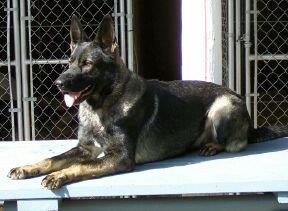 Pedigree
Alpha vom Wilknitzhof Pedigree Database
Irma vom Korbelbach
Summary
West German Import
Beloved VBK9 Family Companion
West German Import
SchH 2, AD, KKL 1, HD "a" fast normal"
About Irma
Irma vom Korbelbach is a top producing daughter of West German stud dog Iriac vom Ruhbachtal (V-BSP) 1998-1999SchH3. Up front within the 1st two generations and throughout her pedigree are multiple (V-BSP) and (SG-BSP)'s. Her Grandsire: Xato von der bosen Nachbarschaft (V-BSP) SchH3, IPO3, on her Dam: Gilla vom Kobeltal SchH3, Grandsire; Ahab vom Korbeltal SchH3 (SG-BSP) IP3, FH2, and Grand Dam: Kasrla v. Peko Haus SchH3 (SG-BSP) IP2., Gary vom KorbelbachSchH3, FH,IP3, and Grief zum Lahntal SchH3, FH.
Irma is linebred (4,4-5) on Askia Froschgraben SchH3, FH, IP3
(5-5)on G-Caro vom Allerswald SchH3(V-BSP) FH,IP3
(5-5) on Norbo Haus Marterstock SchH3, KKL1
Irma is a strong, gorgeous and athletic female that truly brings together excellent overall working conformation and pronounced drive for work. Irma has consistently produced beautiful, healthy and richly colored offspring that have been wonderful loyal family companions as well as the ideal competitors for the sport enthusiast alike. Irma is a joyful family companion that displays a playful trustworthy character with a very stable temperament. She is a safe female with family and small children yet protective of her home, vehicles, and environment. She is fun and focused in all disciplines of work required of her.
Pedigree
Irma vom Körbelbach Pedigree Database
Aika V. Graus Ranch
Summary
DDR /East German Import
Retired
DDR /East German Import
BH, AD, SchH 1, KKL 1
H/D a" Normal
About Aika
Aika is a DDR/East German female Imported from East Germany. She is a Brain v.d. Sperlingsbucht SchH3, FH2, IP3 Daughter and a Tino vom Felsenschloss SchH3, FH2, IPO3, KKL1 granddaughter. She is compact and solid with correct working structure,
Aika is an exceptional female and is fast in her working abilities. She will without hesitation protect her family and property. She is very quick to hold off strangers at our gates until her handler has arrived or called her back. She has a natural suspicion to strangers and will stand her ground with confidence. However, once we have welcomed someone onto our property she is social and friendly, very trustworthy and playful. It will often take someone a few minutes to adjust to her completely different personality once she has been given permission to accept you because of the enormous amount of protection she can display at the flip of a switch. She is an absolutely wonderful female passing on her excellent temperament to her offspring. Aika is reliable and trustworthy with our smaller pets and children and also gets along wonderfully with other dogs within the pack here. She is happy all of the time and always ready to work. She is an excellent female in the home as well where she is relaxed and has exceptional manners.
Pedigree
Aika Von Grau's Ranch Pedigree Database
And watch for our rising stars:
Vera vom Banach
VG Irvin Skocicka Samota, SchH3 x Jezinka Anrebri
Irma vom Banach
VG Irvin Skocicka Samota, SchH3 x Allie vom Banach