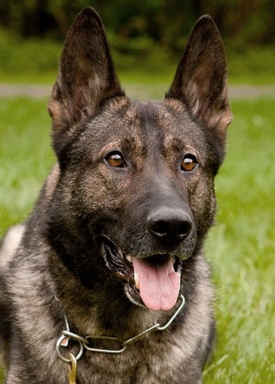 2013 USCA National IP03 Championships - Top 10
2013 Southeast Regional Schutzhund Championship - 3rd Place Overall
2012 Southeast Regional Champion
Vom Banach K9 proudly welcomes SG Tyras vom Schindergraben in March of 2013. Freitag is the result of very selectively bred top-quality proven producing West German working bloodlines from well-known and respected working dogs capable of the highest levels of competition, work, sport and performance. I carefully selected this dog for my breeding program with enormous and careful amounts of consideration for his natural instinctive ability to demonstrate as well as produce progeny very well suited for Law Enforcement, Police K9, and national-level Schutzhund and IPO trial competition.
Tyras is a dog with incredible amounts of drive and energy for the work, while happily able to maintain his focus and enthusiasm for his handler as you will clearly see in his videos below.
His Obedience is precise, clean and he maintains an energy and honesty in his work I can completely describe only as clear headed and biddable. He is a very happy and joyful dog who is very social with people and not dangerous even though he clearly has the capability to do serious damage by virtue of his training. He is absolutely solid in his temperament and trustworthy.
A very special thanks to handler and trainer Daniel Heldreth for showing Tyras to a spectacular Top 10 finish in the 2013 USCA National IPO3 Championships, November 1-3, in Merced, California.
His play drive and immediate excitement to turn it on is some of the nicest I have experienced or had here in my breeding program. He will add to his puppies speed and energy needed for high competition levels of sport and meet the demanding work ethic that requires a dog to stay on task, focused and not deplete or tire of drive for the job when working
For Law Enforcement this is a dog who is clean in his "outs", fast in speed, has the ability to take verbal direction from a long distance. He is immediately responsive to his handler and not dirty in his work. He has that rare drive to find that is that all around solid clear headed dog.
He is not a heavy dog in build which I was greatly attracted to for workability. He easily has the speed, ground coverage quickness, agility and intensity that is so hard to find that is also accompanied by a dog that can come right out of bite work or the field and be immediately social, trustworthy and friendly in a crowd of people and children without the worry of someone getting in his face and becoming a liability at PR type events or in crowded public places.
He will fit beautifully as well for producing very fun dogs for work in Search and Rescue who will be naturals in their learning ability and great enthusiasm to hunt and search while being very very joyful and refreshing to work.
Tyras has now achieved his LBZ. Koerklass ratings such as his KKL1 expire after two years. When the dog is between 4-5 years of age it must be again be shown before a certified judge and Koermeister. If the dog earns an LBZ he is koered for life.
I highly recommend consideration of future Tyras puppies for the many facets of work I am contacted for when selecting a puppy for my clients who really need that perfect working partner. In the home Tyras is very active. I do not recommend him for anyone who just wants a lawn ornament or a couch potato. But for an active lifestyle and love and appreciation for the breed this is one very nice dog! Many thanks to Chris Thompson for his excellent training of Tyras and for honoring us with the privilege of adding and entrusting this fine boy to our breeding program here!